Hello!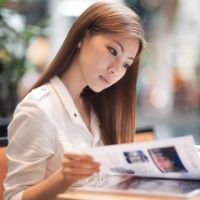 Hihi! I am Serene Heng:) I was born on 22 December 1988, a huge baby who weighed over 9 pounds. I grew up in a humble house, raised by my adorable parents. I have two elder sisters, 4 nieces, 1 nephew, and 1 rabbit. Hahaha はじめまして。 どうぞよろしくお願いします!



Send me your love letters!




2015 Resolutions

1) Learn how to swim
2) Learn to speak the Japanese language
3) Go for dance classes
4) Take part in Oschool Dance Recital
5) Help my P6 students do well for PSLE
6) Decent savings in my bank
7) Run 100km by 2013



Nuffnang




Movies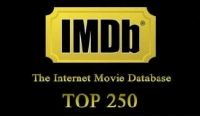 Archives
To-do-list + ADV: Gleeberry

`°•.¸¸.•°` Sunday, March 21, 2010

`°•.¸¸.•°`

(Please help me click on the advertisement on the right! Thank you!)

안녕하세요 !

I can't wait for the 4th May to come when I officially clear my last paper in NUS. After that, it's going to be play play play and more plays for the rest of my life.

Yea right. -.-

There are a lot of things that I want to do and accomplish after my graduation. Everynow and then when I close my eyes, usually the first thing that appear in my head is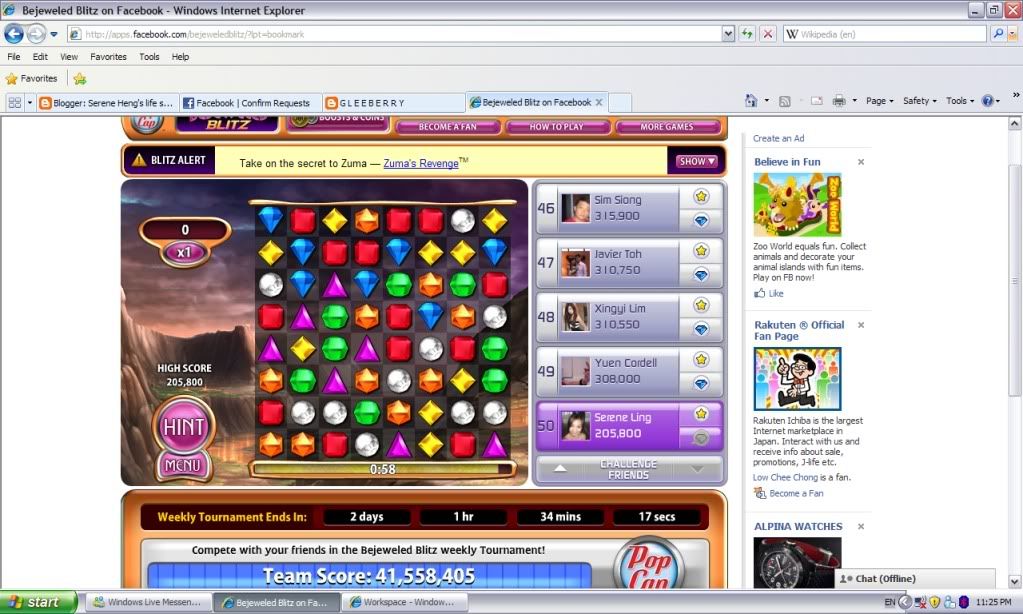 BEJEWELED.
Scarily true. I would always see myself forming 4-in-a-row gems in my head. If you have already noticed, I have a score of 205k but that still sets me at rank 50th. In order to get to rank 49th, I need to hit 310k. The number 1 tops the leaderboard with 800k. Wah laoooo...I have mad crazy friends.
Back to the point, besides forming gems in my head, my mind would drift off at times and start to think about randoms tasks I want to do when I am totally free from academic bounds. To make sure I don't forget what I have thought of, I will list them down here:


If I were to choose between water and forest, I would pick the trees. Forest always gives me a very mystical feel to it. A world of possibilities that runs in your imagination can take place behind those leaves. Think Twilight, Teletubbies' land, countryside and towns away from the cities. Haha. Anyhow, I guess greens make me happier and more at ease. But that's apart from the creepy crawlies friends of forest though. Reason why I seldom go to East Coast Park in the morning/afternoon: No.1 water waves constantly feel like that are pulling me into them and No.2 I don't know how to swim. -.- Which also means that I would drown if No.1 does happen. Muahaha. And forest is equivalent to abundance of trees which also means SHADE. Hahaha. I don't like the sun!
Picture credits to snake6630
Dance
My elder sister was a dancer, so was my second sister. Before I entered Primary School, my siblings were already stretching my limbs for me at home. I developed great flexibility and love for dance since then. I guess one of the greatest regrets of my life is that I stopped dancing for a period of my life. Technically speaking, I didn't really stop. Once in a while, I would piroutte from my room to the kitchen, grand jeté across the living room and even do freestyle contemporary jazz in front of my mirror. I hope after graduation, I will still be able to learn and perform in public again someday. Oneday.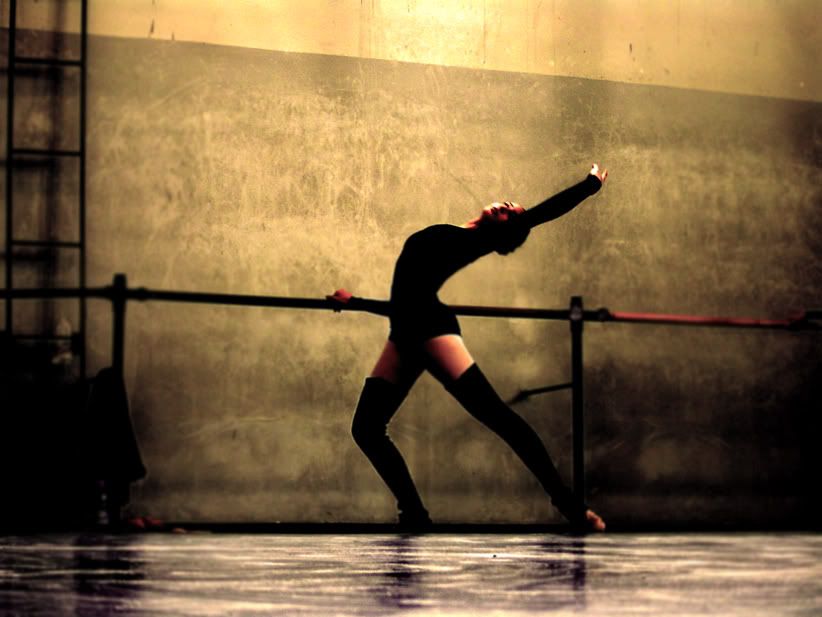 Credits to NaturalBornCreative
Pick up a language/dialect
As you may already know, I am in love with Korean culture. Learning its language falls nicely into my area of interest. But wanting to practise and converse in Korean may become an issue I dont' have many friends who speak Korean. Alternatively, knowing how to speak cantonese may be a good idea too. I can practise with Papa Heng and learn it at my own time own target at no cost. Why? Just watch Hong Kong drama from Youtube and I can learn! Haha.
Sell away some of my clothesI will become more proactive in clearing the clothes in my closet! Joining a flea market sounds fun isn't it? =)
That's it for now. I should probably make room for the list on the side bar. Haha.

***

ADV: Gleeberry

Gleeberry is a online blogshop set up by Ellen, one of my dancer friends and course mate in NUS. One thing that I really like about the site is how the clean and neat the page look. This is a a point I feel that many online blogshops cannot or haven't achieved. If the page is overloaded with information, chances are customers will feel lost, uncompelled and mostly likely wont' return again.

Apart from importing pretty clothes from overseas, Gleeberry also offers customized inked/sketched/handprint T-shirts!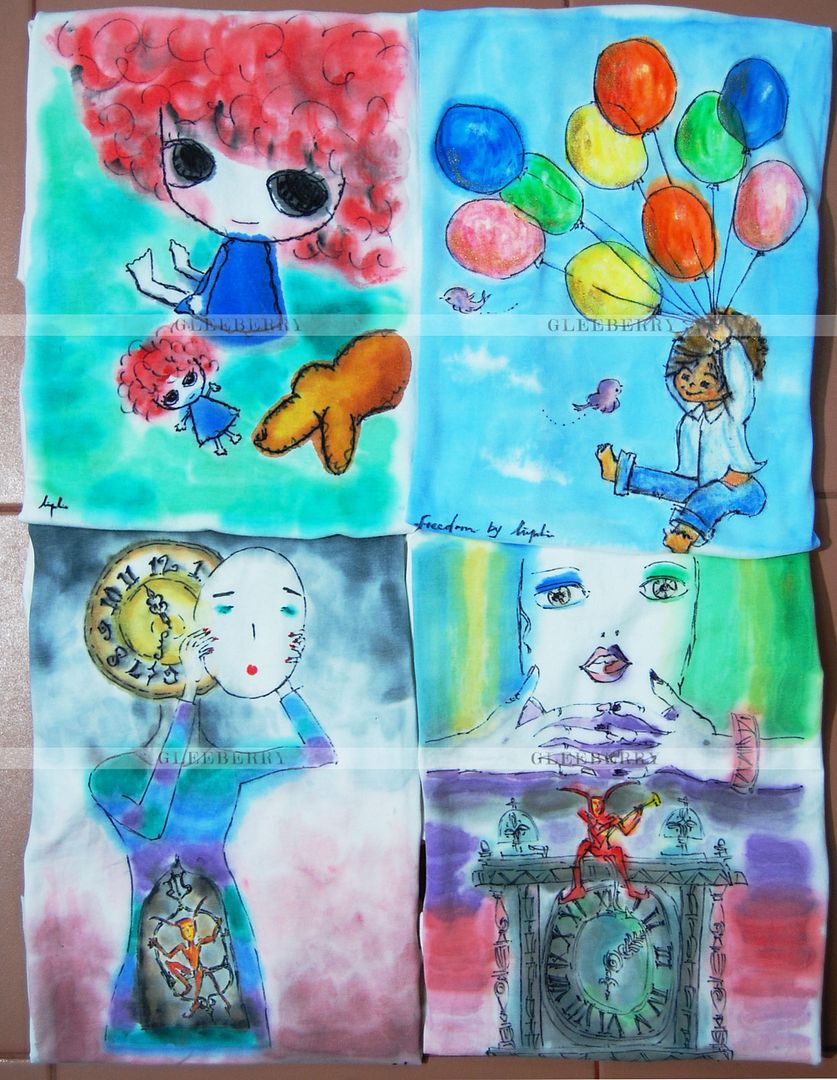 Ellen sent me one of my favourite pieces that she is selling : Kirsten Jumper.
This piece fits all sizes as you can adjust the length of the top to you liking. Pairing with a belt at waist gives you flattering curves and yet is loose enough to hide tummy! Haha. I just feel so comfortable wearing it. Did I mention free customization of bust band is available? Yummy.

I pulled up the bottom part to end below my knees such that the excess cloth can flow down smoothly to look like a 3/4 pants. And you can actually wear the piece as an alibaba pants by itself! Haha. Alternatively, tall girls can let it ends at your ankles to accentuate your long legs. Slip into a Chili Hot red heels and grab a matching red clutch. Chic and Nice.

*Pardon the grainy pictures. My camera was having PMS.




Clearer picture of the piece, taken from Ellen's site
Another pice that I like: Studded top
=))