Hello!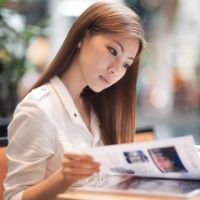 Hihi! I am Serene Heng:) I was born on 22 December 1988, a huge baby who weighed over 9 pounds. I grew up in a humble house, raised by my adorable parents. I have two elder sisters, 4 nieces, 1 nephew, and 1 rabbit. Hahaha はじめまして。 どうぞよろしくお願いします!



Send me your love letters!




2015 Resolutions

1) Learn how to swim
2) Learn to speak the Japanese language
3) Go for dance classes
4) Take part in Oschool Dance Recital
5) Help my P6 students do well for PSLE
6) Decent savings in my bank
7) Run 100km by 2013



Nuffnang




Movies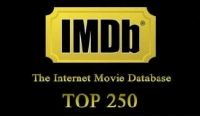 Archives
20092010

`°•.¸¸.•°` Tuesday, January 5, 2010

`°•.¸¸.•°`

Warning: Long entry ahead. Longest entry I ever written.

Time is sprinting so fast ahead, I hardly have a minute to take in glorious 2009 in close inspection. Before you know it, wave goodbye to January 2010 and say hello to February. We always move forward, trying to keep abreast with everything and everyone around you. But sometimes, I learn more from looking back at my life's archive. Lagging behind ain't that bad after all.

I did my best, attempting to strike a balance between school, family, friends, and work. But of course, I knew I failed badly.

Event dates can be very unpredictable. While I get to plan my own academic timetable, sometimes the events may still clash with my classes. Fortunately, my grades continued to improve from every semester, albeit the frequency of me skipping lectures and tutorials have set a new record high in 2009. I always find it funny and illogical, that I am working so hard to pay for classes which I am not attending. At the end of the day, it is the A4 paper which I am aiming and paying for.

When more time is allocated for work, less is distributed for family and friends. This is one aspect which I failed. Although time spent with family has shrunk, I strive to utilize every second to its fullest. Still, I know it is not enough. Sometimes when I am working the whole day, I missed my family so much I wanted to ditch my job, run home and hug my parents. I met my fair share of evil beings during events and all. It isn't so always so nice and warm like how photo shoots and events have been beautified.

Here, I want to say," Thank you Baobe Teo. =)"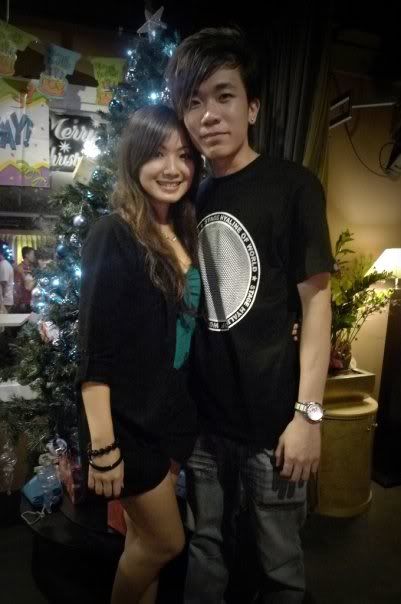 You always offer to fetch me to ulu venues for work and then back home during the unearthly hours. You have always been so gentle and sweet to me, like how you speak to Brownie. Hahaha. I know I haven't been the best girlfriend, demonstrating my sarcasm and stubbornness which by now I am sure you are all too used to it. I haven't been able to be there for you all the time when you needed me. I am sorry that you have to suffer under my vicious wrath and ruling (sometimes), but please bear in mind that I only have you in my heart. You and only you. =)

As a result of everything else, friends are the one whom I have neglected greatly. I am never really keen into meeting new friends. I always feel that there's no point building a friendship that will never quite last, especially if you know you will most likely not going to see that person again. This is very true for people I meet in camps and other 1-time events. So, what' the point of being too involved emotionally with the person? It only wastes your effort and time.

Until I met trishlove. =) You made me realised that friendship can be nurtured if you play your part in supplying it with care and love. Sure, it must be reciprocated with the same amount from the other party to sustain it. Whether it works out or not, we wouldn't know. Anyhow, Trishlove, you are one good friend that I know I want to keep till my hairs turn grey. =)



To the little fishy who has been swimming her life around me since secondary school, I love you as much too. That trip down from your house to town just to spend a mere 2 hours with me, really warms my heart. I love those stay overs in my house and juicy gossips over the MSN. You too, I want to see you around me until your scales starts to fall off. HAHAHA.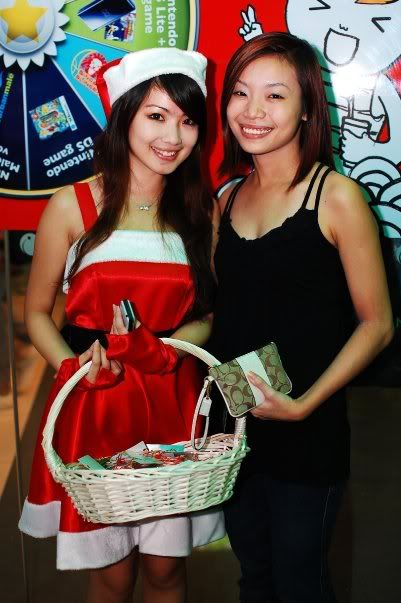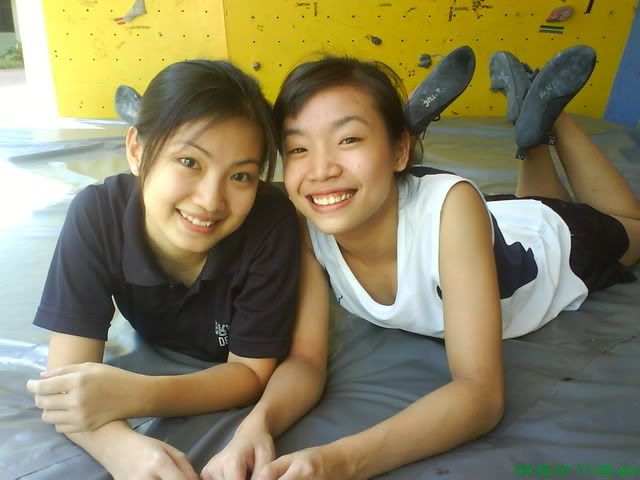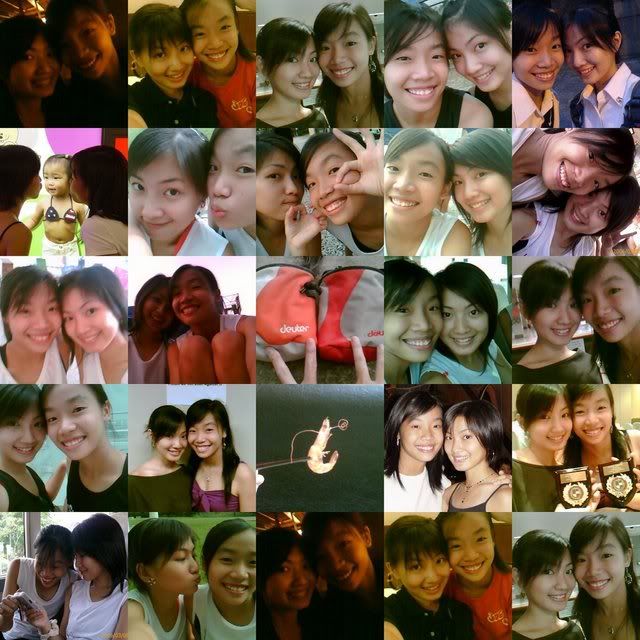 To the smart-asses jess and giam who already predicted my absence in my house, I never expected Wara's entry into my life. I love how thoughtful you two can be, how smart your brains are, how funny you two can become. Whenever I meet you two, I will always learn something new. Be it Mahjong or preparing the food. Haha. Thank you for making my Junior College life a memorable one. Let's continue to play Mahjong even when both of my hands are shaking. Hahaha.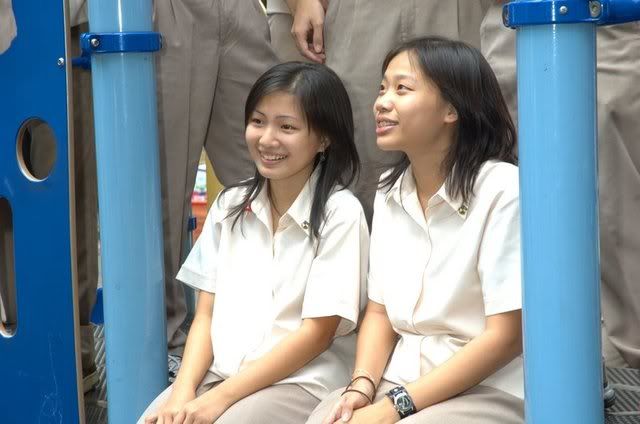 This year, I shall put in more effort in being nicer to friends who care about me. Friends who truly bothers about how I feel and do things to make me a happy girl. For the others "Facebook Friends", friends whom I deemed shared a superficial relationship with me, I will let go.

Because of Baobe, I met his friends, friends' of friends, friends' girlfriends, girlfriends' friends etc. We are all linked up by invisible strings and I am extremely happy I met this group of crazy people! Shamine, Jiaying, Tingyun, Celest, Garry, Mark, Joshua, Mingrui, Samuel...and 10++ more etc. They are definite one of my biggest gain in 2009. Laughter, tears, anger, fighting, sweat, party, makan, racing, drunk, birthday surprises, midnight supper, exploring the Tang Dynasty etc. Hahaha. I like everyone in the group and hope that no one will be replaced. =)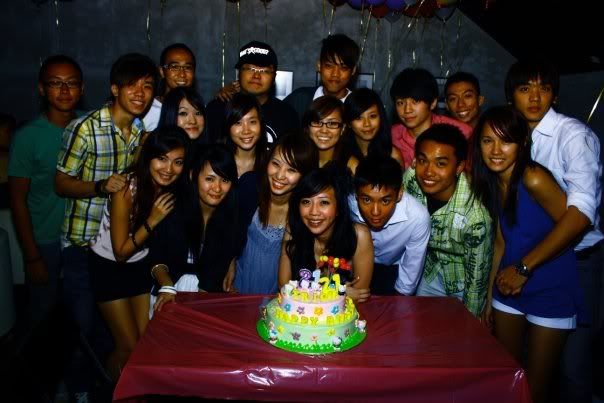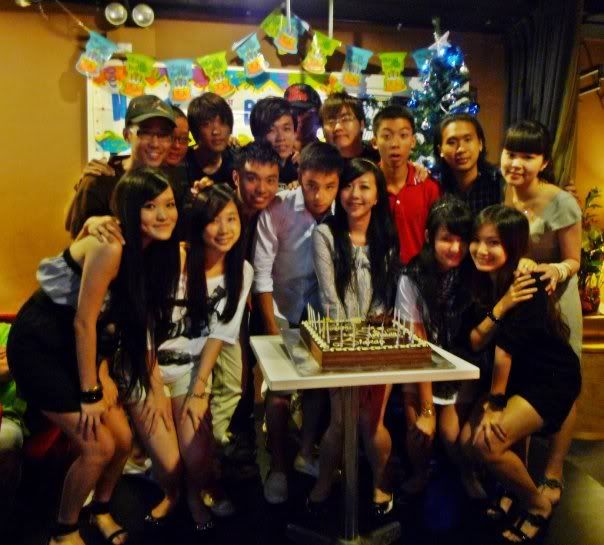 This year, I will be graduating from NUS and it marks the end of my torturous journey trying to pay my debts. I will always panic and get really stressed up when a new semester approaches. $18k for 3 years may seem little to some, but it is definitely a huge feat to me. You may have hear me say this for a billion time, but I am goddamn proud to repeat again: I earn and I pay for my own school fees, taking no loans from banks. Still, I welcome kind donations to my bank. =)

2009 was probably the year which I brought home the most income ever since I started working. Jumping into the photo shoot industry was merely by chance and I never knew that it would open my doors to more job opportunities that contributed significantly to my income. I would have already died from exhaustion, should I have taken up a mediocre job which earned me peanuts.

I was asked, how my photo shooting career started? Here, I am utterly grateful to the 3 people. They are the important people who pieced me up for photo shoots, and subsequently allowing me to receive jobs from events companies and all.

Firstly, thank you Wanying darling. =) One fine day, she told me her primary school teacher was searching for "models" to practise his photography skills. It was a Time For CD (TFCD), where I would receive a CD of all my pictures taken that day in return for the time spent. No money transactions were involved. I was totally cool about the idea even though it might seem like a free labour job. But I liked the idea of photo shooting and decided to give it a try anyhow. This was where I met the 2nd important person.




On the day of the photo shoot, I was very afraid and skeptical suddenly. Boarding a stranger's car wasn't really the safest thing to do. But I trust Wanying and went ahead in the end. Neo, my first official photographer who shot me and gave me an album of pretty photographs. He taught me basic posing and I had fun throughout the shoot! Although we agreed on TFCD, he even went beyond it and printed out a stack of pictures for me. This was how I received my first set of photo shoot pictures.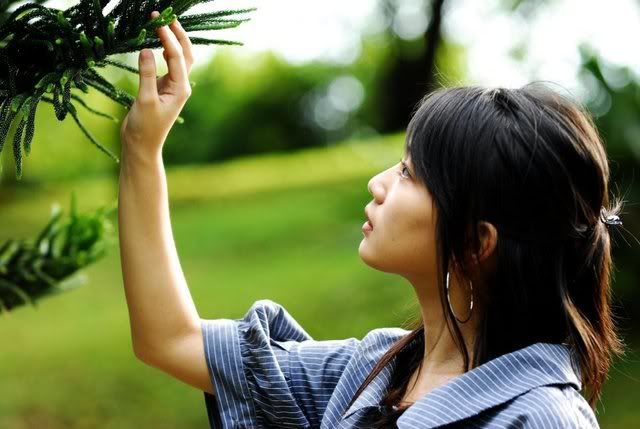 I never thought and never knew I could make money out of photo shooting. Ryan, the third important person saw my pictures and asked if I was keen in doing group shoots. He was my primary school classmate and a photo shoot organizer then. Now that it is a group shoot and he will be around during the shoot, I find it more convincing and safer to attend the group shoot. My first group shoot didn't receive a good response. Only 5 photographers attended and there were 3 models. Nonetheless, Ryan still paid me relatively well compared to the previous job I have worked before. I was even more motivated to continue.

Soon, pictures from my previous photo shoots caught the eyes of other photographers and invites for more photo shoots began to increase. I must say, as a newbie, I am a very lucky girl to have meet some of the excellent photographers in Singapore. Legendary photographers like Ejun, Deadpoet and Kongo who imparted me skills in modelling and shot me pictures which awed many. I met great photographers like Raymond aka Kel77, Fred aka LunaSea, LiAi, Albert Mah, Phoakm, Indra, Alpha bros and many more who make my shooting session filled with fun and laughter. Not forgetting the wonderful organizers like Venom81 and Candleghost who tied strings for me. =) There are too many names to mention here but I want to express my utmost gratitude to the ones who showered me with care and smiles before. Thank you =)

If you wish, if you like, you can view my portfolio HERE.

2009 has been fabulous, but my 2010 will definitely make your jaws drop.

=D