Hello!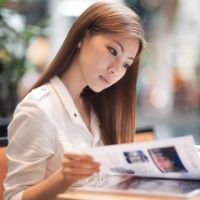 Hihi! I am Serene Heng:) I was born on 22 December 1988, a huge baby who weighed over 9 pounds. I grew up in a humble house, raised by my adorable parents. I have two elder sisters, 4 nieces, 1 nephew, and 1 rabbit. Hahaha はじめまして。 どうぞよろしくお願いします!



Send me your love letters!




2015 Resolutions

1) Learn how to swim
2) Learn to speak the Japanese language
3) Go for dance classes
4) Take part in Oschool Dance Recital
5) Help my P6 students do well for PSLE
6) Decent savings in my bank
7) Run 100km by 2013



Nuffnang




Movies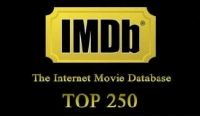 Archives
`°•.¸¸.•°` Thursday, July 30, 2009

`°•.¸¸.•°`

Tags--

jos: hohoho, when i put on make up, i do the full set. from toner to bb cream to foundation to eyeliner to mascara to eyebrow to blusher. Hahaha. I dont put falsies =) But if I am running out of time, then it would be eyeliner mascara and eyebrow.

zw: know me by reading my blog=)

van: drop me a mail at sereneheng@live.com ya.

***

SCHOOL IS STARTING AGAIN!
I dont' want I dont' want I don't want =(
I am trying to plan my timetable in a way such that my school days and off days are the same as M. But I am afraid it's quite impossible. Even Ethan Hunt would fail this mission. Aiyaya.

Been spending a lot of time with M and I love it! =) We played Mario Kart on Wii without fail everytime I visit his house. And we finally concluded that the winning factor goes to the wii controller of Player 1. It has little to do with the human player's skill. Hahaha. And then we played chinese chess. Real physical tangible wooden chess. I lost, as usual. I never won a single round of chess in my life before. Haha.

Back then when I was still a secondary school kid, I remembered someone showed me this website filled with many pictures of abandoned destroyed buildings. I was lucky to be able to track down the site again. =) Here's some pictures to share.

Tohoku Little Wooden School
by Tadashi Taro Shibakoen

The School of the Abandoned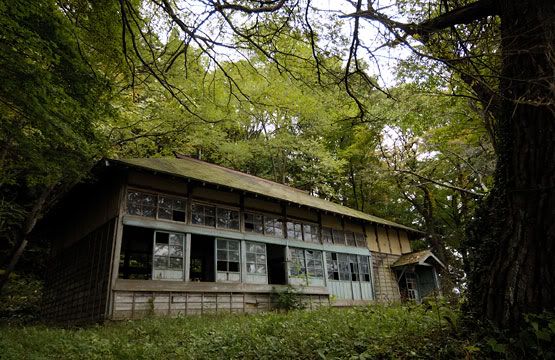 Little passage way into the wild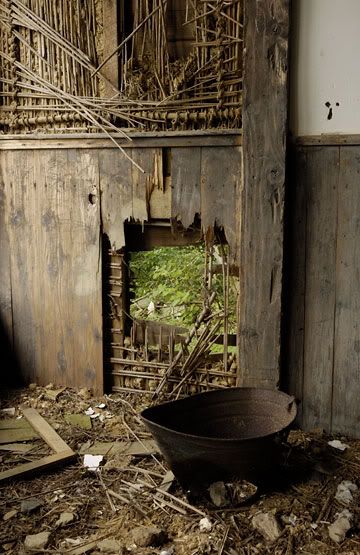 Cupboard for your shoes



Forgotten



Drawers



Teacher's desk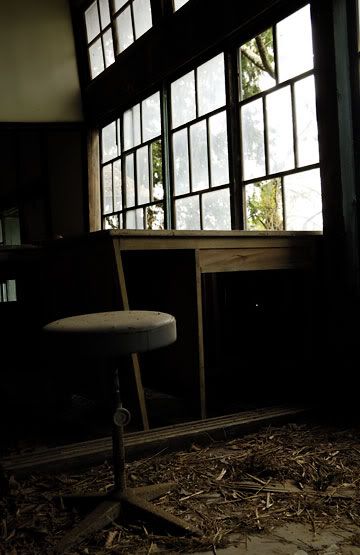 Clean the board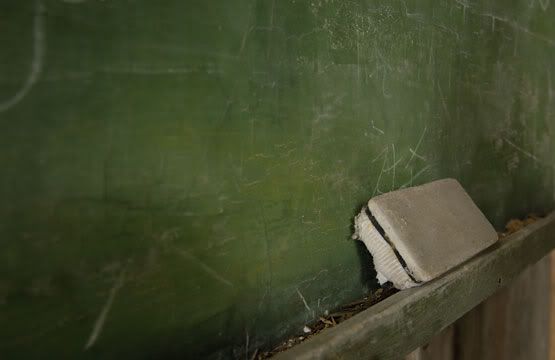 The little one's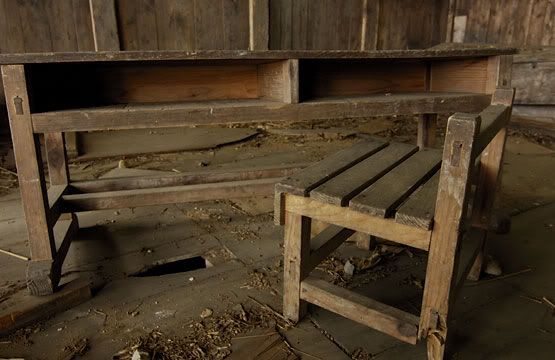 Classroom



Know your exit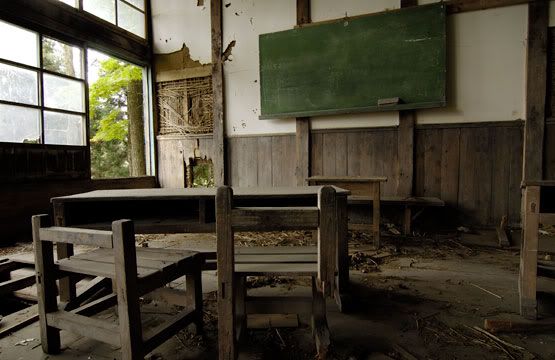 More to come!